If you haven't yet discovered the intrinsic world of African fabric, then you are surely missing out something big. African print fabrics are at another league with their extremely creative patterns, vibrant and eye-soothing colours and versatile textures. Having a quick glance at them instantly changes the mood into a soothing, calm and happy one. We strongly recommend you to take the tour through these creative fabric art.
African print fabrics could be used in a variety of objects. They can be used for adding life to living room furniture and decors, to creatively woven clothes and apparels. The clothes made from this fabric is very comfortable and cosy, and the colours will add a suitable warmth and will surely enlighten your mood.
What is African Wax Print Fabric?
African wax print fabric is a pretty old artform which is derived from Indonesia. This type of fabric is purely made from 100% cotton. It finds its use in furniture, décor, clothing and many more. Africans take pride in their artform and people from all around the world visit here just to have a look at this beauty.
The African Wax Print fabric is often referred to as the Kitenge or Ankara fabric. The method from this the fabric is created, originates from Indonesia and is called the Batik. It usually refers to the wax-resist dying technique used in the formation of the fabric. Clothes made from this fabric are extremely modern and comfortable. So, it is also highly recommended for children here.
The Kitenge has a very unique pattern or say design which distinguishes it from others. It has the same artform/design and colours on both the sides which make it immensely attractive.
The History of Kitenge Fabric
The story dates back to the time when the Dutch colonised Indonesia. Dutch merchants found out the special Indonesian Batik fabrics and brought some samples on their way home to Netherlands. After retrieving the samples, they tried to duplicate these fabrics in bulk into low quality batik fabrics. However, they failed as this was not well received by the Indonesian people.
However, people of West Africa, found these designs unique and beautiful and so the Dutch initially sold these fabrics there. Slowly, these fabrics became popular in Europe as well as Britain who further manufactured them in large scale before finally expanding to African Countries.
How is this fabric manufactured?
The fundamental steps for the manufacture of this fabric include:
First wax is prepared in molten form and is printed on the cloth in a unique pattern with the help of a machine.
Next, the wax-covered cloth is dipped into an indigo dye bath (indigo dye has a unique property of repelling wax and thus the cloth is dyed leaving out the wax covered areas).
For additional patterns and designs a machine is used which cracks the wax thus creating a bubble or marble pattern.
Then 2-3 colours are added to give the cloth a vibrant and warm look. This is done with the help of a printing machine.
After the printing is complete, the cloth is dipped and washed in boiling water to completely remove wax remains. This wax is recycled and used in the next cycle.
Lastly, further designs and proper finishing of the cloth is done.
Another fascinating fact is that sometimes, the cloth is not coloured by the machine, but rather manually. This adds a better creative finish. Moreover, all fabrics of the same batch can be made to look unique and interesting just by altering the cracking effects and patterns.
What are the uses of this fabric?
The major use of this fabric is in the clothing industry for different kinds of apparels. African prints clothing is widely popular just because of the use of this fabric. However, let's have a complete look at where these fabrics are used:
African people usually wrap the fabric around their waist/body as a towel.
Busy mothers usually use it as a sling to carry their babies during work.
It is also used as kitchen apron or even as a protective cloth to wear while cleaning.
It is widely used in the clothing industry to print modern African style clothes.
Moreover, it is used in home décors such as quilts, bedsheets, lampshades, napkins, curtains, cushions, etc.
This fabric also finds its use in accessories such as bags, shoes, ties, hairbands, jewelleries, etc.
Some of the best African Style Children Clothing
Ebony Dress – Tokyo
The dress is constructed from an exceedingly lightweight fabric, which ensures that your daughter will remain comfortable throughout the day. She can pair it with exquisite accessories and shoes to complete her outfit. It is most suitable for youngsters between the ages of 9 months and 2 years.
Ebony KiKi-Fun Dress
This dress is great for females who like a more straightforward appearance. It's a versatile piece that she could wear to practically any event. You could add some other things to enhance her appearance. It is also suitable for children aged 9 months to 2 years.
Ebony Kwila- Fun Dress
It's a sophisticated gown, and it's great for enhancing her beauty. It is composed entirely of cotton to keep her comfy throughout the day. She might pair this with stylish shoes and other accessories to complete the appearance.
Maria- Pretty Play Dress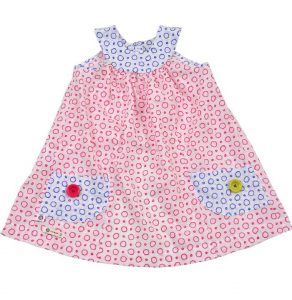 This gown features a one-of-a-kind floral design created by our skilled designer. This dress will be comfy for her to wear due to its luxurious materials. She can wear it with whatever sandal or shoe she pleases.
Mika – Play Dress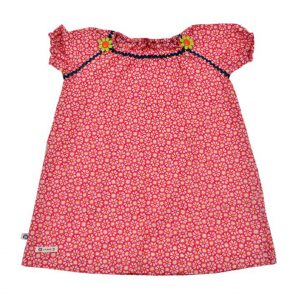 It is one of the nicest gowns for her fun personality. Although it is casual attire, with the addition of a few accessories, it may easily be worn for any event. Sandals are ideal with this style of dress.
So, hope you liked this article on African style fabric and clothing. Moreover, the designer ones are a great buy.